9 best portable coffee makers for the perfect brew while camping
For a barista-quality cup of joe while travelling, you need one of these small, compact gadgets
Liz Dodd
4 days ago
Thanks to the recent intersection between the hipster and hiking cultures, you can forget mediocre mugs of instant or cold strolls to the cafe. There are plenty of pocket-sized, artisanal coffee makers on the market that you can use to brew from your sleeping bag.
We tested these coffee makers on camping trips, day hikes and windswept surf trips. We also discovered a useful crossover: many of these little coffee-makers are desk-sized and keep your drink warm for hours, meaning you can maintain a steady supply of caffeine when working from home without having to pop down to the kitchen to microwave your mug every few minutes.
We looked for portability and durability first – so glass and ceramic were out, as was anything that took up too much room in our backpack. We also preferred makers that didn't need paper filters, because those can be fiddly to pack – although we made some exceptions. Overall, we looked for the best-tasting cups of coffee across a range of brew methods, with a variety of beans and roasts.
The kind of coffee maker you need depends on what kind of coffee you like – there are really portable options out there for every style of brew. If you like a long, even cup of coffee, pick a "drip" brewer or a french press (also known as a cafetiere).
Read more:
If you need a short jolt of coffee to get going, try one of the portable espresso makers – you can always lengthen these with hot water to make an Americano.
If you're a gourmet, you'll love the Hario V60 and the travel version of the famous Aeropress. These made such smooth, flavourful cups of coffee that we started using them at home, too.
You will need to be able to boil water to use with these coffee makers, although with some systems, the kettle is integrated, so you can pop the whole thing on the stove.
Most make a single shot or cup of coffee at a time, unless we've specified otherwise, but many also come in larger models.
The best portable coffee makers for 2021 are:
Planetary Design ovrlndr press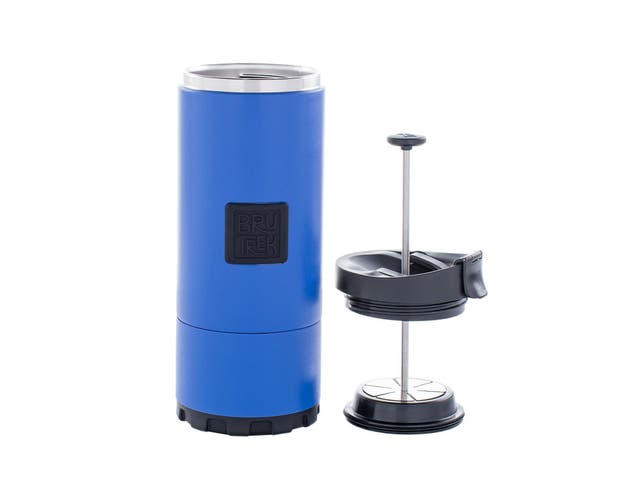 Best: Durable design
The most rugged, adventure-ready coffee maker we tested. It's essentially a tall cafetiere, made from steel, with an integrated mug. Thanks to the vacuum insulated wall, it kept our coffee warm for at least an hour. It's incredibly neat and simple: add coffee (coarse ground) and water, stir, then pop on the lid – which integrates the press – and push down. The mesh press sits snug against the wall, so the grounds stay firmly at the bottom of the cylinder while you drink. It's very durable and easy to clean; simply unscrew the bottom compartment and throw away the grounds. It's on the heavier side but makes two generous cups at a time.
Be sure to factor any potential import fees from the USA into your budget when ordering the overlnder press.Buy now £39, Planetarydesign.com
Read the full article here.